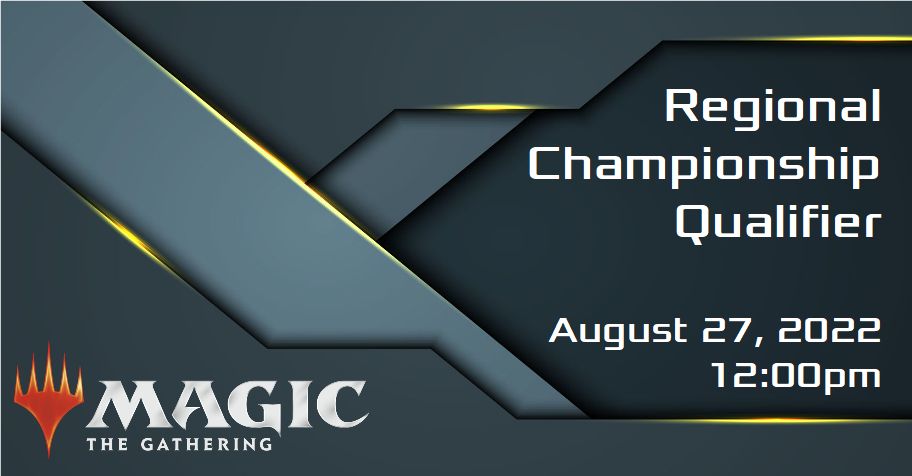 Competitive play on a grand scale has returned to Magic, and you can win a chance to compete in the big leagues right here at your friendly local game store!
–Tournament Structure–
Pioneer format (rules found here: 
https://magic.wizards.com/en/formats/pioneer
)
As a premier event, a cut to a playoff will be in effect per MTG tournament rules. Decklists will be required, and competitive rules enforcement will be in effect.
Entry for this event is $20.
Seating is capped at 32 players.
–Submitting Decklists–
Decklists are required for this event. Random deck checks will be in effect during the tournament.
Paper forms will be available at the tournament; please allow time to complete the form before the tournament begins.
–Prize Structure–
First place receives a large prize package including:
· An invitation to participate in Dreamhack's Regional Championship, Nov. 18-20, 2022, in Atlanta, GA
· Reimbursement for travel expenses to the Regional in the amount of half of entry fees received, or equivalent store credit
· A $25 Gift Certificate from Coalesce Apparel
· A foil Nykthos, Shrine to Nyx promo card
Top 4 finishers receive a custom art Game Theory playmat.
Top 8 finishers receive a non-foil Nykthos, Shrine to Nyx promo card.
All participants who pre-register receive a Lava Spike promo card, as well as set booster packs awarded based on final standing from a prize pool of two packs per player.
Get ready for the qualifier with our weekly Pioneer tournaments on Thursdays at 7:00pm! Any player who participates in at least 7 of the 10 weekly events between 6/18 and 8/25 will receive a 20% discount on qualifier entry!